I have actually gotten some work done on Owl and the Pussycat this week. I admit I have not stitched on it probably for several months; I have been working on other things or just not stitching at all. Some of the time it was just not possible to stitch with a new and young puppy trying to eat everything. She has mellowed and has learned to lay in my lap when I am stitching instead of trying to eat the stitching.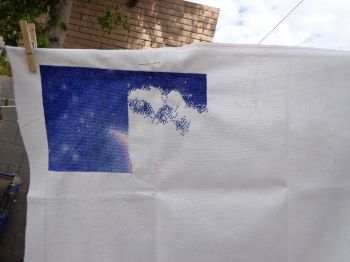 You can see what I got done yesterday and last weekend. I have completed page one of the pattern now. I think I have like 10 more pages or something like that still to go.
I am going to have to go and buy some more DMC threads, I have already gone through a couple of brand new skeins of thread on page one alone. I think I am going to need a lot more thread.
This is Heave and Earth Designs Owl and the Pussycat.
Last update was Feb 2013, A little bit of everything post.