Christmas Eve
People never cease to amaze me this time of year. Have you heard on the news of all the angels paying off people's always. I am not a recipient of a pay off, I didn't have a layaway. But the idea of 1000 plus layaways being paid off by strangers is just incredible. What a way to share the love of Jesus.
Slow week at work. It is that time of year where everything is slowing down for the year, I expect the 4 days I will spend at the office next week will be equally slow. But that is ok, I have to get the Fry's calendar done next week so I will have plenty of distraction free work time for it.
One of my co-workers loaned me her carpet scrubber, so I was able to make my carpet in my front room look tons better, it was pretty bad right in front of the door, but the carpet now looks and smells better.
I wasn't able to do Christmas for my boy the way I wanted too, a couple of people knew there wasn't going to be a Christmas really. Well that is not true, my son will probably make out like a bandit tomorrow at his Dad's house. But here I wasn't able to shop for him. At first I felt bad, but thanks to a couple girl friends, and a great aunt and a co-worker and a the world's Best Friend, my son is getting a great Christmas anyways. Plus he got my time, even if I am a little cranky since I am fighting his cold now, my throat is a little raspy and I have a cough. I will survive.
My son this week went to Urgent care and we found out he has Bronchitis. Joy! Some anti-biotics and a little cough meds and 3 days later he is feeling loads better, he even sounds loads better.
Like I said I don't feel bad now that I couldn't spoil him rotten like I wanted to and am prone to do. He got my time, we mixed cookie dough up. We were going to make cookie star trees. My Avon Lady gave me the 10 piece star cookie cutter set, I had them all washed up and ready to use. The dough would not get firm enough to roll out. So we made drop cookies instead, just as yummy but not as fun as making the trees would have been. I promised him when he came back from his Dad's we would try again.
So one of my co-workers got my son a Christmas gift. Pokémon cards. Nice little booster pack set, he got several great cards out of the pack that he was so excited about. They had to be moved right into his collection. So yes he was thrilled.
My Aunt also gave him a Pokémon card set too. He got Green Tornado I think it is called with several more cards that just made him thrilled. He couldn't wait to get them out of the pack to look at.
So yes my boy is into Pokémon. This game amazingly has been around since 1995 when I was working as an after school day care leader. My kids (the ones I watched) were so into Pokémon, so much so they where banded from the school, they became such a distraction. I watched the show so I could be familiar with what the kids where talking about. But I never dreamed my 11 year old son would get into Pokémon. Or at 32 my son would get me into Pokémon. I have always like Pikachu, but he was yellow and cute. I have a stuff animal, a key chain and a piggy bank that I have had for years. That is as far as I ever went. I now have a collection of cards all my own. I am building 4 battle decks of my own. One Electric, one Fire, one Leaf, and one Water. I started out building them for my son he kept bring me cards from the original series, and he kept talking about how to play the game. Something sounded fishy, so I started reading the rule book and I have taught my son the correct way to play the game.
My Mom made my son a beautiful quilt for Christmas. Red, white and black with a couple of "grandma" squares in it (purple pieces). The quilt qoes great with his Red and black curtains in his room.
Did I mention that I have the world's very best friend. He showed up today, with cookies and presents. Since today is my son's Christmas with me he was allowed to open his present. My best friend gave my son a lap top for Christmas. Wow! A lap top. I am impressed. I was blown away I did not expect something so expensive. My son is thrilled of course. He wanted his own computer. It isn't brand new it is refurbished, but it is exactly what my son wanted.
My best friend also brought presents for the dogs, a bag of dog cookies, cans of cat food for the cats, 2 hand dipped candles, I will have to get some candle holders now, and a plate full of homemade cookies. Yummy. Oh yeah and a really cool bag made from Capri sun pouches. It is so cool.
My best friend didn't stick around long, with my boy being sick and my fighting this cold they split so to stay healthy, but not before his sister gave some loves to some of my cats, at least the ones that would allow her too.
Kudos to my best friend for graduating college with his PH.D in a computer related study. I am so proud of him. I know he worked hard for his DR. Title. Congratulations to my best friend.
I got a beautiful photo shopped picture of my cousins, each of them when they where 19. My Aunt did an incredible job on that. Looks like the girls were standing together. My cousins are 6 years apart, but it makes for a great photo.
My Grandmother gave me some NECCO Wafers, my favorite candies and my Aunt also got me a book. Encyclopedia of North American Reptiles and Amphibians. The perfect book for me. I have already gotten lost in it twice today. I will have it read in no time for sure.
I read through 2 more books again this week. Evidence of Mercy and Justifiable Means too more great books by Terri Blackstock. I highly recommend any book by Terri Blackstock, they are great reads. They would make great made for TV movies too.
Today I spent some time stitching and got Gingerbread Puppy finished up. I have Gingerbread Kitty to do, and 2 San Man Snowman pieces to finish. And this fabric will be all stitched up. I need to get something for his eyes.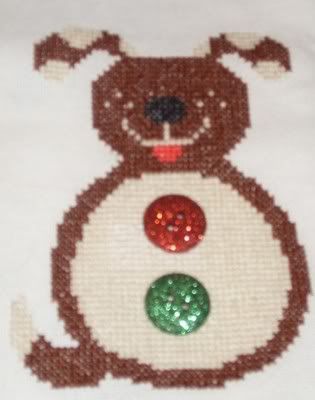 I stitched up a cute little felt reindeer, 2 actually 1 for me and 1 for my step-mother. I also made a potato, I don't know why I just had the felt so I made one. Complete with eyes.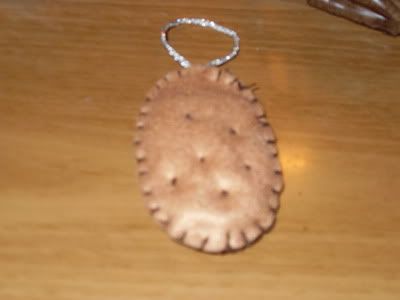 Reindeer cubes – I didn't stitch these I just turned them into cubs.
Finished Peace Cube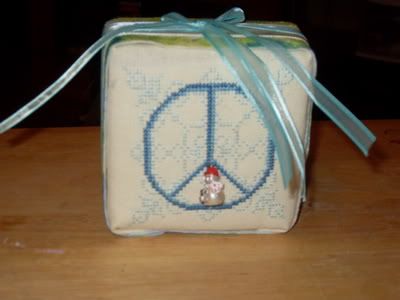 Christmas
Couldn't sleep last night. I don't know what time it was when I laid down, but around 2 I was still up. I must of feel asleep because at 3ish I was jerked out of my sleep by a crash, never did find the source of said crash, maybe it was in my dream.
Finally gave up trying to go back to sleep about 6. Got up and when a worked on some more stitching. Woke the boy about 8:30 so he could get ready to go to his Dad's house at 10. Bonnie came and sat next to me on the couch. Not unusual. She spends a great deal of time at my side. Except this time there was a huge gash in Bonnie's underbelly area near her right leg.
So I spent the morning in the ER for pets. She went in for surgery to close it up. Came through with flying colors and now looks like frankenkitty. She has shaved patches of hair all over and stitches, but hair will grow back and her wounds will heal and she will be back to my sweet Bonnie in no time at all.
Sometime during the night Bonnie was attacked by Indiana. This is not the first time he has attacked her this is just the first time that it has ever been so severe. Bonnie is not the only cat that Indy goes after. I really need to find him a home where he can be the only kitty or maybe he can go with his Mother and be a pair. He just doesn't do well with other cats. Just his Momma.
After getting Bonnie home I sat down and finally got some stitching done. I stitched up Candy Canes. This is a San Man Original, thinking I am going to turn it into a no-sew-cube.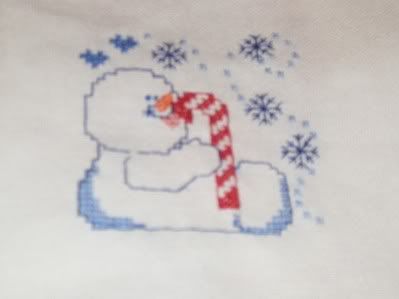 I was waiting for Bonnie to make an appearance so I wouldn't have to stress her out and drag her from under the bed, she finally came out and bee lined for the kitty box then I took her to my room with a small can of soft cat food and her medicine and gave her tonight's dose. She went back to under my son's bed after eating the wet food, but at least she got her meds for the night. Poor girl.
So my Christmas turned out to be nothing like I thought it would be.
Merry Christmas