Sydney is growing like a weed. She is now 10 weeks old and 16.9 lbs. She gained almost 9 lbs since her vaccinations at 6 weeks when she weighted 8.5 lbs. She is going to be so big.
Sydney isn't feeling great today. This happened last time too, I think the dewormer upsets her tummy.
I don't have new pictures of her today, I will get some new pictures of her when she is feeling better, maybe from her training class.
I did finish 2 cross stitch pieces this week. My 6 little owl ornaments by Laura Doyle Designs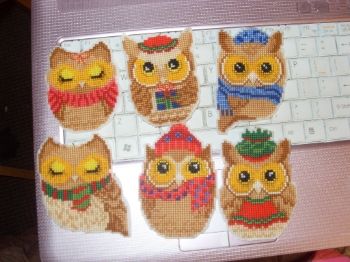 I started and finished this one in just a few hours. This is Umbreon she is part of the Eeveelution group. I can't wait for the girl that is designing this black work series to do the rest of the Eeveelution series. There are 7 more, well 8, a new one is coming out this fall!