Sometimes you are just in the right place at the right time. Today I came home with a beautiful red tail boa constrictor. Since bringing him home was an impulse I am thinking of calling him Impulse. I kind of like the name.
I grew up with this same kind of snake. Well not grew up so much as lived with one. A beautiful female red tail boa constrictor. Her name was Rocky Bal Boa. She was my brothers but we all loved her.
This is the only picture of her that I have. I was about 13 in this pictures so it was a while ago, 20 years ago.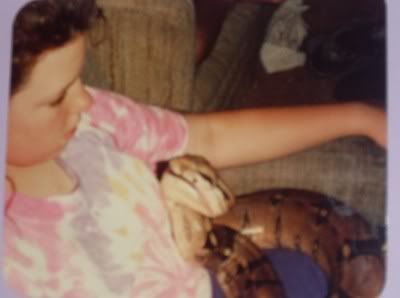 A quick up date on Bonnie Blue, she had her stitches out and her fur is growing back in, she looks a lot better and is jump about again so she is feeling better too.