I have been a stitching fiend lately. 5 new finishes in a week and 1 more frog stitched.
I added the 5th frog to Frog Pile, the little green on. I have 7 more frogs to stitch still; I have been working on it for about a year now.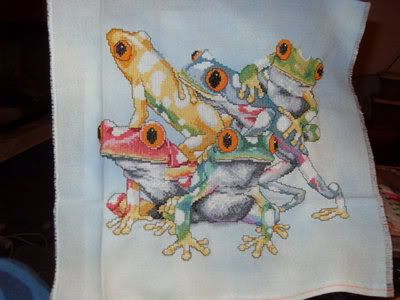 I stitched a little bookmark for myself. Little Green Tree Snake, I got the pattern out of my Omni Book of Exotic pets.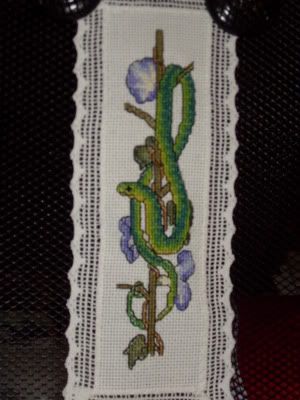 I stitched up Ball Python, also from Omni Book of Exotic Pets. I left the words the pattern had on it out, it was designed with the words Sorry its one of those days. I stitched Dratini on it instead, the name of my Ball Python. Dratini is stitched on a piece of San Man Swatch, Opalescent 28 CT Jubilee color called Quiet Time.
I love my little ball python, it is just the sweetest snake. I can see why they are so popular.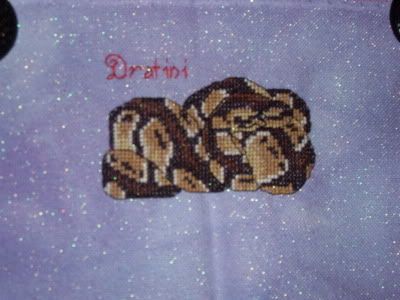 Finished off 3 of the 5 Mill Hill Bead Kits I recently ordered.
Patriotic Bug
Owl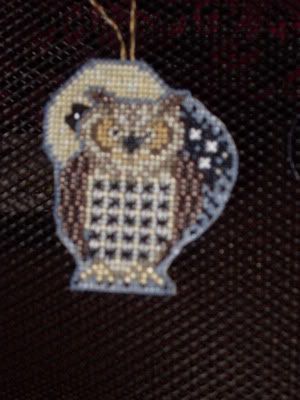 Canyon Santa
I have the other 2 Southwest Santas. I like the unique Santas, but I am very picky about my Santas so it surprised me that I liked all 3 of the Southwest Santas.
Right now I am working on Cora Colbert's Letters from Nora – S. I expected it to be a little challenging. I had never done a Nora Colbert before, but this one is stitching up really fast I spent 2 hours on it yesterday and did more than half the piece.
I will post s picture of it when it is finished.
My young red tail boa Impulse recently got a new cage she needed a larger one and still could use a bigger cage, I am working on that for her, but for now she can stretch out again and move about. She got a new bigger hide that she seems to enjoy. She can conceal herself completely again. I have noticed she is more active since I moved her last weekend.
My big red tail Jupiter was showing off his size the other day. His cage is 4 feet long, 2 feet high and 2 feet wide. As you can see, I have a 6 foot plus male red tail in my collection. He is an awesome snake.