I got up early thanks to a certain 8 week old puppy. She started crying about 5am, she hasn't figured out that Mommy sleeps until 5:30 yet.
I went to scrub my carpets today, only to find my regular vacuum isn't working right, so I can't even get the floor vacuumed first so I can run the carpet scrubber  It is a brand new vacuum too.
So I watched some TV, mopped the kitchen floor, and played a little MineCraft on my son's XboX 360.
Then at 10 I packed up Sydney and Neo and we went to get Sydney's nails trimmed, I also had to get dog food and Kong Stuff. I got Sydney a new dog bowl, pink, of course and a Kong treat dispenser, I am going to give Sydney her mid day meal in it while I am at work during the day she can shove it around and get the food to fall out. Give her something today during the day.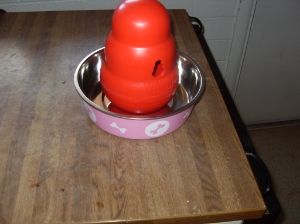 We stopped off and a fund raiser car wash, to get Tuesday's dust storm washed off my car, and Sydney got to meet some more children that fed her cheez-its and kool aid. Well the kool aid she found on the ground from a spilt cup.
When we got back from Petsmart we had a doggy pool party in the back yard.
My Dad brought down his Border Collie Scraps and my lab Bailey, and with my three Peaches, Neo and Sydney they played for about 45 minutes out in the yard. Got soaking wet and dug a few holes they they got good and muddy, well except my jack who didn't want to get wet.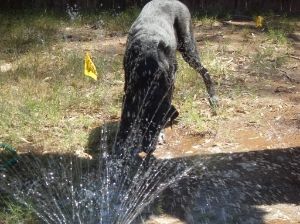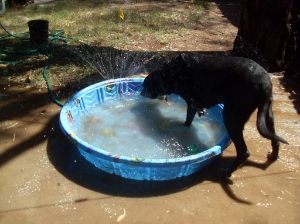 Peaches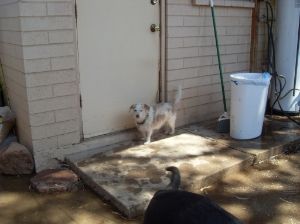 Scraps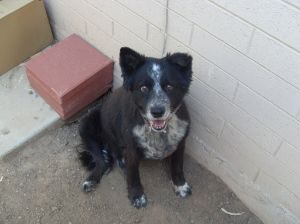 Syd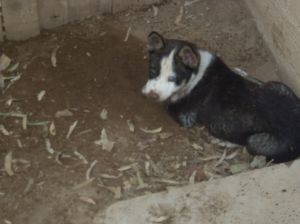 Bailey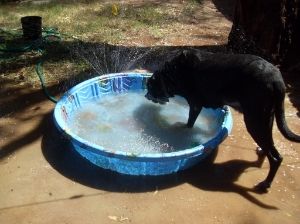 Pooped Puppies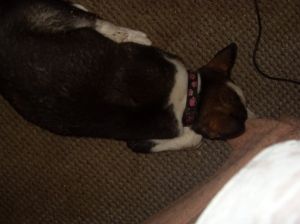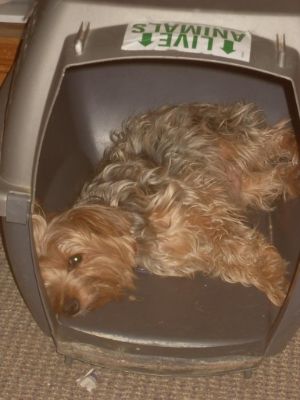 I took the dogs back to my parents place, and took my three along for the walk, stopping to visit with the people I got Sydney from. They love to see how she has grown. Syd got to see her Momma and show how dirty I let her get. When she wakes back up I will have to brush the dirt out of her coat. Right now she is sleeping after her little adventure today. But it is good for her, she got to be socialized to other to some new people, places and things. All very important to her development.
And on a totally off doggy topic, I finally finished my Great Escape, or as much as I am going to do. I left out some flowers. I just didn't want to do them. This is by Abi Gurden of the Stitch Specialist Yahoo group.
My favorite stitches was the breast feather that run down WOL's chest, his wings, the sombrero stitches in his body and the stitches that make up the post of the sign post. I think the sign post was my absolute favorites to stitch. I have been working on this for over a year, my original start was on a black opalescent fabric, but I could see on it to so I switched to this purple fabric. It was suppose to look like a starry night sky.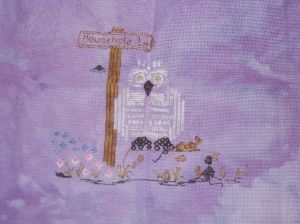 Last but not least my Calico Half Moon Betta, isn't he pretty. Love the contrast of colors from his body to fins.