Ok offically it isn't really the year of the owl, but for me it is. My plan was to work on nothing but owls in 2014 until then some, until all my owls are stitched.
This is going to be a photo heavy post. Trying to post all I have done since my internet went down in early November. Forgive me if I have already posted these, I am drugged, and have a broken collar bone so typing spelling may be off in my posts and I can't look things up well.
Travel the world in cross stitch - I have the book of this one - came out of the Canada section of the book
28ct white with DMC threads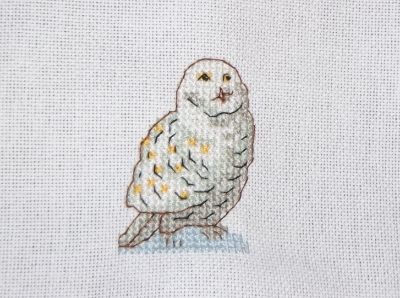 Wendy's Owl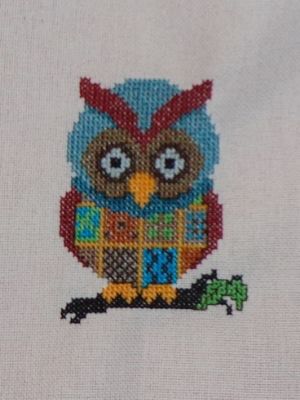 I always thought this owl looked like he is wearing a space suit. Isn't he cute?
This is Wendy's owl
by Ships Manor
used DMC threads
I think 28 ct white fabric
this is one of many i want to do this year in my year of stitching owls
GM Silhouette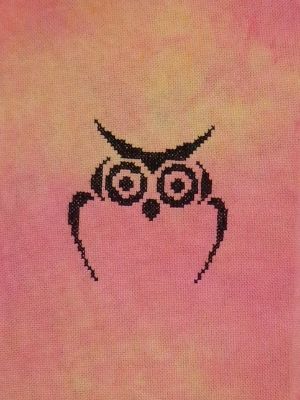 I think this is the last of the owls from when my internet was down. This is a freebie I found on line, it was on a foreign site, only thing i that wasn't written in another language French I think was the numbers.
So I just call him GM Silhouette owl there was a g & m on the page.
I used a hand dyed fabric, that i dyed myself, fabric is 2 toned a coral and a pink. i used a brown black 3371 DMC thread.
Bent Creek's Quaker Moon
I had to make changes to this one since it was a Halloween pattern. I took out the faces on the pumpkin and the word spooky. I can't remember what charm it called for a purple button? But I used a glitter star button on it.
Summer Khaki 28 ct fabric, might be 32 ct and DMC thread
Advent Tree of Owls Christmas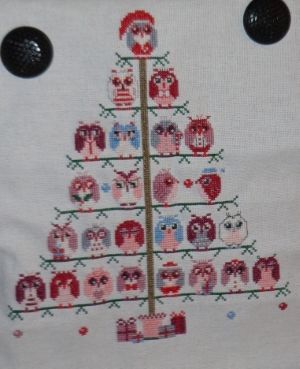 This is an old retired SAL that I collected a while ago but never stitched. you got the tree in November and each owl one a day from Dec 1st until Christmas, oh this is an advent tree, just remembered that
I had so much fun stitching these little guys. Day 12 you had to design yourself, I used a body from 24 and colors from one of the blue owls to make my guy
This SAL didn't use many colors, but i think it turned out nice.
28ct Charles craft white Monaco
DMC threads
Halloween Owl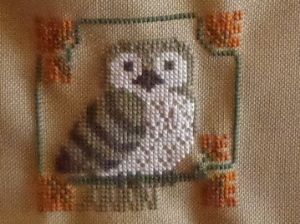 This was part of a leaflet, it has a black cat, a pumpkin and a house pattern along with this adorable little owl pattern. I want to say this is Bent Creek Halloween.
Owliver Owl Tote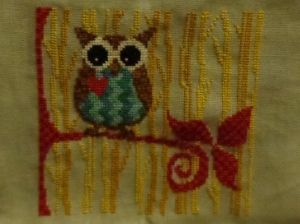 This pattern came from JCS Feb 2014 issue I. There is a bookmark too, but I have only done the tote bag so far.
This picture isn't great my camera is dying
I used a mint green linen for this one. The thread is DMC I love the colors in this one, wish they came out better then in this picture.
Owl on a package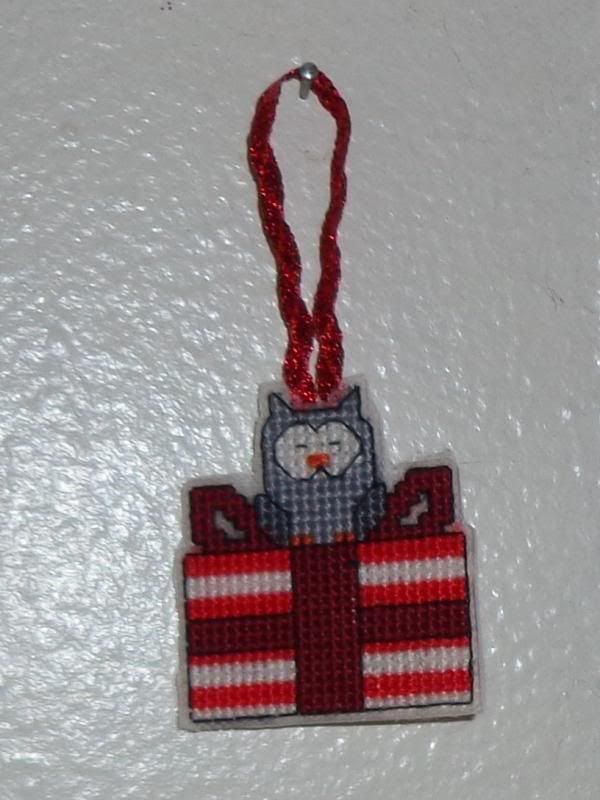 I have no info on this owl, I made lots of charges to this one, I had a hand drawn chart and no key. I don't know who drew him, it was in a pile of stash I received from my church, ladies donate old craft supplies sometimes and inherited the cross stitch stuff
I stitched him on 14ct perforated plastic
January Sal 2011 Owl Oak Haven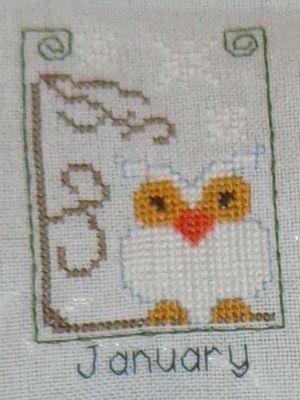 This is one of 12 owls from Oak Havens 2011 SAL. There is an owl for each month; I intend to stitch them all this year. Once my shoulder heals that is. I want to stitch so bad right now it is driving me crazy.
the fabric is a soft blue 28 ct even weave
threads are DMC
I think I am going to make this into a flat fold.
Barn Owl in Flight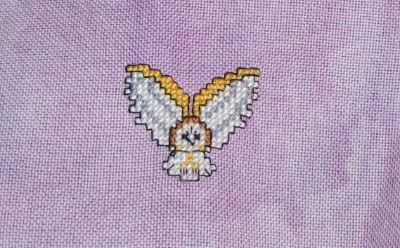 Little freebie from the web I collected ages ago
light purple 28 ct fabric, it was a left over scrap of fabric
Beginner's Owl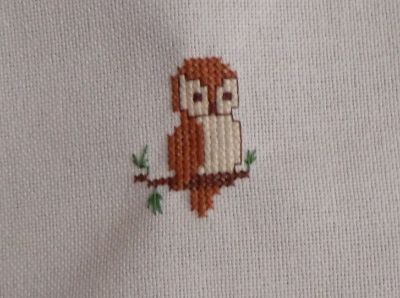 Where i got this pattern I don't recall, I know it is Gloria and Pat's. I have a print out of it, I think it was off their web site? it is a instruction piece to basic cross stitch but he was too adorable an owl for this seasoned stitcher not to add to her year of owls project
28ct white Charles craft Monaco and DMC threads
Burrowing Owl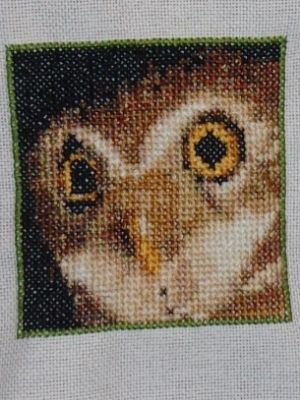 JCS magazine I believe, I ripped the chart out of some magazine ages ago. I have had the pattern about 2 years now.
Stitched on 28 ct fabric using DMC threads
Wizard's View Snowy Owl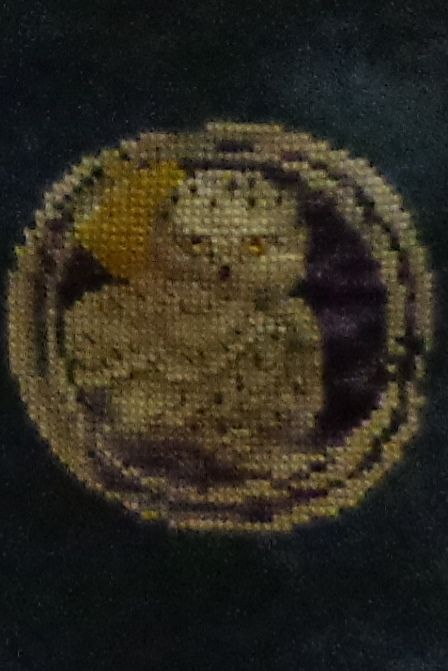 I have no idea where i got the pattern I think it came from enchanting cross stitch. I forgot to write it down. I can't dig it up right now with my broken collar bone.
my camera is dying the colors look much better than this.
28ct millennium blue linen
DMC threads
I omitted the beads from this pattern
Hedwig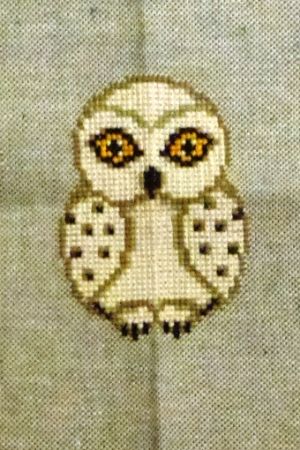 This was pinned on pinterest, title Hedwig from Harry Potter. Just another cute little owl chart I thought.
I used a blue denim color scrap fabric 28 ct and DMC
Oakley Owl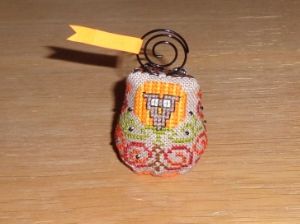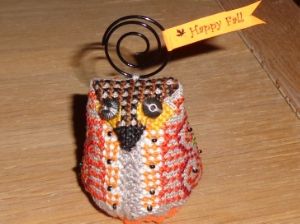 I remember working this piece while watch Ghostbusters 1 & 2 one weekend afternoon.
This was a kit came with all the embellishments, I add to supply the thread and fabric
Thought this little owl was adorable, perfect for my fall decorations
Learn to Sew Owl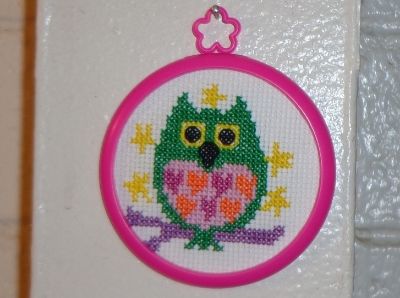 Just a cute kit I found a Wal-Mart.
DMC's Woodland Friends Ollie
Ok this actually the last one. This is DMC's Woodland Friends Ollie, 1 of 2 patterns I have of Ollie, the only one I have stitched so far. He actually was not as easy as i thought he would be, lots of 3/4 stitches.
This is the newest pattern for Ollie I believe you can find him online still