Thought I would post one more entry before my trip. Saturday cannot come fast enough for me. I am so looking forward to next week. Spending 4 days with my friend in Utah, Salt Lake City area. Going to the lake of course, and to Antelope Island, but from what I understand there are only Bison (North American Buffalo) on the island. She is going to take me to her LNS, my son is not thrilled about that, wants to stay home when we go. LOL I told him no, because that is not the only place we are going that day. We are going to a reptile expo on Sunday. I am looking for a female rosy, but I may wait until November and get one at the Expo in Mesa, Az. Won't have to transport her all the way back to Arizona during a 12 drive, would only be 30 minutes there and I can let her settle in for a week before moving her again. Plus I need to get a cage; I just used the last cage for my son's new snake.
We are also going to take the boys to the zoo and the aquarium. No trip is a good trip unless I get to go and look at animals. I love touring the country and going to the zoos, aquariums and wild animal parks. My friend is also going to take me on a site seeing tour of the area. I want to see Devil's Slide. I hope to have lots of good photos to share, I may have to get an album and link to it. But that is only if I get a ton of great photos.
I have been super busy getting my house cleaned up. For whatever reason I am going above-and-beyond what I would normally do. Tuesday night for instance, I decided to put the storage items under my bed, which requires lifting the mattress and all that fun. Once I got the mattress up I found a blanket, 3 rugs, my missing half of my pajamas, a sock, a wash rag, 1 flip flop, I think I tossed the other half, 2 bowls, and several cat toys. I have no idea why my cats have been dragging things under my bed.
So last night I decided the fridge needed to be cleaned. I threw the drawers in the dishwasher and started pulling things out of the fridge, I was just going to spot clean it, I had a chicken leak blood in my fridge so I need to get that out. I started cleaning more and more and finally settled on just cleaning the whole thing. I found all my candles I store in there during the summer so they don't melt. I moved them to one of the bottom crisper drawers so they aren't everywhere in the fridge. I have so many candles in there I filled one of the drawers.
I haven't gotten much stitching done as of lately L a little more on my bead thing on Saturday. It was my turn to work this weekend so after I did all the work that needed to be done. I had about an hour to kill before I could leave. I dragged out my stitching and worked on my bead thing. It is turning out rather nice if I do say so myself.
I got to work on a Fall wreath for my house this weekend. I saw one in the Avon catalog that I really liked, but I wasn't about to pay $25 for it. It is only out for a few months from End of September to Thanksgiving Weekend when the Christmas stuff comes out. So I went to the dollar store, and grabbed a wicker ring, and 8 bunches of fall leaves and sunflowers and a wired ribbon to make a bow, and created my own. I think it turned out nice. Plus I have enough to make a 2nd one if I want to, I just need another ring.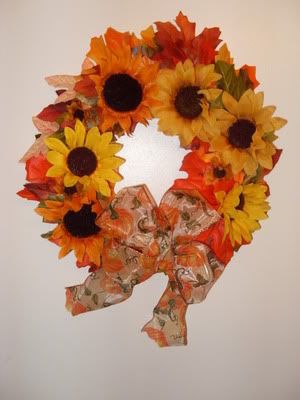 Sad news about my Betta – Sprite. He committed suicide sometime after I left work on Saturday. I found him under my desk when I got into the office on Monday. I have no idea what would have caused him to do this. I think I will get a new Betta in a couple of weeks this I will place a piece of plastic canvas over the opening of the tank. It was very sad to find Sprite, he was my buddy. He had a great personality for a fish. I think he held grudges too. I can't recall how many times he would be pouting about something.
I am getting to know my co-workers a little. One in particular. It is funny we have worked in the same department since I came over here 2 years ago and I am just now getting to know her. Actually the switch to this new position has been good for. I am doing things I never would have done before. Well so far one thing. I joined the teams Bowl-for- Kids group. But I am not a very good sales person, my raffles are not doing well at all. Next year I think I will either let someone else run it or not do one myself. Since mine don't do well at all. So like I was saying a co-worker. I am teaching her to stitch, and we talk a little. I really like her. She is really funny, but I think if we hadn't moved I never would have gotten to know her. She has the cutest little grandson too.
Well lit is the night before I leave for Utah. The Counter is a little off. Oh well.
Tonight I took the boy to best buy, he wanted to spend his gift card he got for his birthday. He also spent $60 of his birthday dollars. He got 2 DS games, a DS case and a DS game case. He wanted to buy dinner and bought dinner and lunch and dinner for tomorrow night for on the road. He is such a generous kid.
Almost home tonight my check engine light came on. I freaked. Right the night before my trip. Sigh. I cried myself sick. My Dad came done basically kicked my butt, told me to get the car packed and go.
So my car is vacuumed, gassed, loaded and ready to roll tomorrow morning. I am trusting my Dad.
I have to take my shower tonight, pack the cooler and I am ready to roll, oh and feed Candy. Hiss already ate.
Wish us luck and travel mercies.