Crush's new tank: My best friend took me to pick up this 55-gallon used aquarium that I found on Craig's List. It was a smoking deal. Brand new I could have easily paid $300 give or take for the same system, and then still need to get a filter for the tank.
When we get it back to my place he helps me clean it out. It was clean, but not clean to my standards. Plus I am cautious, it has been in storage in a garage, or at least that is where it was when we got it so better safe than sorry when it comes to Crush's health. The dirt that was in it probably wouldn't have hurt Crush, but why take that chance, and might as well start out with a clean tank, it won't stay that way.
We got the tank all set up and was filling it with water. We went to put the turtle topper on the tank, and I had melted it when I cleaned it. I left it in the dishwasher when I went to go get the tank. I forgot to turn it off before leaving, so it was totally my fault. So my friend tried to warm it up and bend it back into shape, it is working but not doing a lot. So he decides he is going to take it home and use a heat gun on it. Best case I get it back and it is like new, worst case it is toast and I need a new topper.
The result, a little bump on top, but it works just the way it should work. My best friend to the rescue again!
The turtle topper, is probably the greatest water turtle accessory ever invented. It fits on top of most tanks 10 gallons to 60 gallons. As long as they are no wider then 13 inches. The breeder tanks won't fit the topper. I think Penplex needs to design a Turtle Topper 2.0 to fit wider tanks. But a 55 gallon will last Crush the rest of her life.
Another friend and I determined that Crush is a girl. We thought as much before, but we are certain the Crush is a girl, so excuse me if I slip and say he. Crush was a boy turtle in Finding Nemo so my mind set is there. It is like Candy, I say she, but that cute feisty little pink snake could very easily be a boy. Someday I will know, for now it is not an issue.
So my friend returned the topper, and I have to say I think Crush was pretty pleased with her new digs, as far as turtles can be pleased that is. She has an underwater platform to rest on, and her topper to pull back out of the water on and bask in the heat lamp. Her little Rosy Red Minnow friend ever survived living in a picture on my kitchen sink for more than half a day. Crush and I are both happy to have her out of my bath tub.
Here are some shots of the tank, and sure enough the rosy red gets lost in the tank. Also of Crush.
Oh a co-worker gave me 2 canister filters, the one here is working, the other, I haven't played with it yet but she says the motor works but it isn't pumping the water through. I am going to see if I can get it running, dual filters would be great. Need to get something a little more stable to sit it on, going to pick up a couple of cinder blocks.
I also got some more stitching done today. Yet another section of my Tree of Stitches by Abi Gurden at Yahoo Groups The Stitch Specialists. I have noticed that my placement is off on the stitches so I decided to get Lester and Horace stitched on now rather than later and risk Lester losing his seat in the tree. So now I will work around Lester. While stitching Lester I was doing a stitch called knit stitch, it is so easy and so much fun, by far my favorite stitch to date. I decided Lester would have yellow eyes and the flowers would be yellow as well, for a pop of color. So sections G, N, O, P are now done.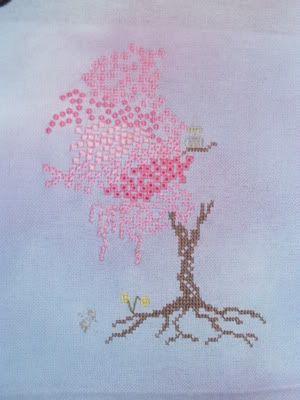 I also stitch San Man Originals Snowflake Day 2. A different shade of blue from the last one. These stitch up real fast and are pretty when complete. Least I think so. These are for me, or they would be shades of pink. Still can't reveal their purpose.
I also started beading the first of my San Man Originals Ear of Corn pins. It is working up nicely so far, my last attempt at beading didn't turn out so well, I gave up and tossed it in a drawer somewhere. Kind of hard to tell it is beads.
Here are some of the animals being lazy about the house.
Grumpy
Neo
Michelangelo – she actually came storming out last night, was parading about the living room and has stayed out here since then. She usually likes to stay in my room and hide under the bed. She had worms for breakfast this morning. She hasn't been eating real well lately, just the last week, so with her sucking down two she must be feeling better. Here she is enjoy a little fresh air.
Only other really exciting thing in my world for today, is I went to get Ice Cream with my Mom, she just wanted to go out, and my Dad helped me move 2 cages around. One of which I really need to finish building. It needs some cosmetic work and doors. Been sitting around a couple of months as a table and a place the cats sleep in. Can't wait to get Toothless inside it.
Where I left off on the cage –
In a few minutes I leave to go and get my boy, haven't seen him since Wednesday, he stayed with his Dad this week to get some math tutoring. Math is not my strong subject, in fact my son is better at it than I am. When the boy gets home he has a birthday gift from my friend to open, the cats sort of helped, ripped the bag apart and the tissue paper wrapping one gift, but everything is still in good shape.
The boy made out like a little bandit for his birthday. Here are all the cards he received. Plus some of his birthday gifts that where waiting for him.
The book from Nicholas, Dinosaurs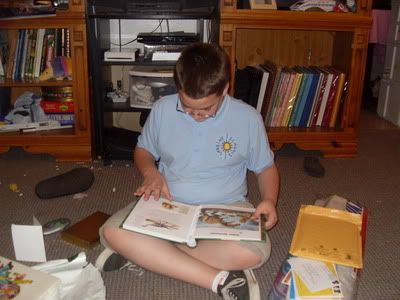 Pay Day – and you can see the huge Styrofoam glider
When we were in Williams at Bearizona last weekend, we met this artist that paints these amazing pictures of animals, she painted a Cobra for my son it was the animals he wanted. She did an amazing job making this fearsome creature look like he is smiling for his portrait.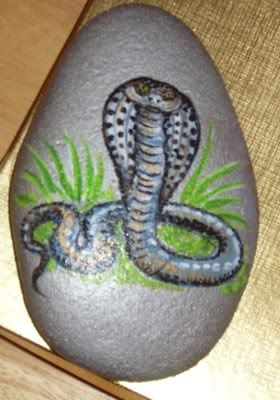 For those of you that didn't notice I waited until I got the boy home to finish this post. So I could post him with his cards and gifts. (Please if you know my son's name do not post it in comments, many thanks).