OK so to really get this started I should start out with a list of the critters I have. Since I will probably be posting pictures of them and updates of new critters from time to time.
I have 8 cats, yep, I know Crazy Cat lady. I had 12 at the beginning of the summer, but have been able to find homes for 4 of them. Phew! So my 8 cats are:
Nani -Torbie
Indiana - Tabby
Anakin - Ginger Tabby
Rhett Butler - Tuxedo
Bonnie Blue - Siamese
SkippyJon Jones - Siamese
Grumpy - Fuzzy Tabby
Emmy - Blue
I also have 3 dogs
Bailey - Black Lab
Peaches "Pit" - Jack/Doxie mix
Neo - Yorkie
This is my Yorkie
In the Terrariums:
George - 4 Hermit Crabs
Crush - Red Ear Slider
Toothless - Bearded Dragon
Michelangelo - Box Turtle
Fire, Lava, DAVE, & Kermit - Fire Belly Toads
Lightning - Chinese Water Dragon
Hiss - Coastal Rosy Boa
This is Toothless
At the Office
Sprite - Purple Betta
Finally finished my Mom's Birthday present, she has wanted this piece done for her for a couple of years now.
My Mom made my a quilted wall hanging, a turtle with yellow and pink fabric in its shell.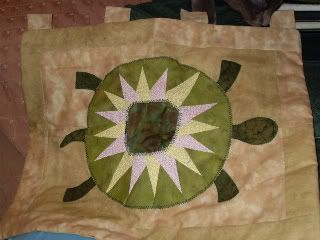 I am going to work on some Christmas and fall stitching for a little while now. I have a Fall ornament exchange I am doing on one message board and a Christmas ornament exchange I am doing on another, that I have been doing for a while now, several years since my son was a really little guy. After that I want to get back to working on my Frog Pile piece.
I have a trip coming up in October, going to Utah to visit my friend. She is a fellow stitcher and reptile nut like me. She has a ton more snakes and turtles then I do though, I only desirre to have as many as she does. Might take me a while. There is a reptile expo the day after I arrive in town, so we are going to that. We are heading to the zoo and the Aquarium, going to go out and see the The Great Salt Lake, and Antelope island, but I understand there isn't any antelope on the island, only Buffalo there. And I think we are going to take a scenic drive and visit her LNS. I am very excited.
Wish I had thought up a more clever name for my Blog than Creepy TJ, but I think this will work. Creepy TJ was my favorite bunny. I got him when I was 16. Named him Tucker-James. the name was bigger then he was. He was my 2 lb Sable Polish. One day he started eating my homework and I yelled at him, Tucker-James! He didn't even flinch, so I called him a little Creep, and he reacted, did a little bunny dance and raced under my bed with my math homework. The name stuck after that. My handle became Creepytj because of him.
So I get to update from here now. Mostly it will be animals and stitching. Nothing personal really. This isn't Facebook after all. Actually I don't post much there either, cute quotes I like, pictures and such like that. I game there. Pioneer Trail and Farmville. I will get some more pictures of the animals and post them. I have to find my favorites. That one of Neo is my favorite, It is right after I had him groomed. He use to look like a mini Chewbacca. So yes this is sort of like a diary, but clean and fun. Maybe I will get some scrapbook stuff posted on here too.