I did some more stitching this week, not a lot another section of my Tree of Stitches by Abi Gurden at Yahoo Groups The Stitch Specialists. The Jerusalem Stitch, fun little stitch, pretty easy too.
Stitched my first of 12 snowflake ornaments, they are all going to be in shades of blue. Like this one. This San Man Originals Snowflake day 1. I can't say what they are for in case someone sees it.
I also stitched up San Man Originals Ear of Corn pin. I am going to do them again in beads. Hopefully, my last attempt at beading did not work out so well. One of the ones I will do in beads will be for my Mom. This one in specialty threads is for me, I will put it out with my fall things. I used Ozarks Canary, Weeks Dye Works Pumpkin, Weeks Dye Works White Wash and Gentle Art Sample Threads Dried Thyme.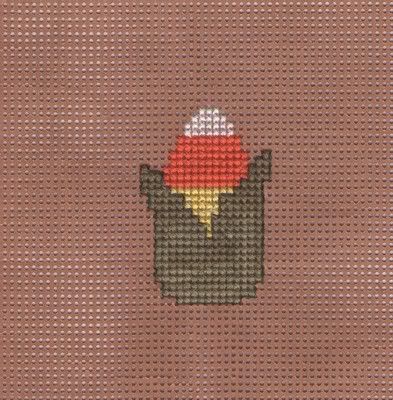 Today I have been spending time rearranging furniture. I am getting ready to get a 55 gallon tank and had to make a space for it. Decided it is going in my kitchen, in case it leaks , the filters at least I want it on tile. I have had issues with ruined carpets from turtle filters. So I have an unhappy Red Ear Slider named Crush in my bathtub right now. I wish I had kept the 60 gallon I had now. Oh well, Crush is getting a new tank now. I was given 2 big filters by a co-worker, she has a bunch of fish tanks and offered these to me. I am hoping to get the 2nd one running so I have dual filters on my tank. Turtles water can get gross. If that fails I will invest in a good pond filter. Ultimately the goal is to get Crush outside into a pond.
My son received a snake for his birthday. We still have to go and pick him up but I got his new home stuff. I need to get cage locks still though. Snakes can and will escape and in my house with 8 cats, it would be a snack, probably for Nani. So this is Outlaw the gopher snake, sure looks like black tail rattler though doesn't he? He is non-venomous, but really dang cool looking.
So this is Outlaw – the bowl is clean it is just hard water deposits.
And this is a black tailed rattlesnake
And this is some of the parts for Outlaws new home. I am going add a big rock over the heating pad that he can wrap around if he wants, and I have a water dish for him, and a piece of cage carpet.
I stepped out of my comfort zone and joined a group at work, the bowl for kids group. We are doing some fund raising for our team, My Mom made a quilt we can raffle off, and I put together a pumpkin jar filled with candy, going to a guess game, how many pieces are in the jar, winner gets the jar and the contents. That is 13 bags of various candy corn candies from Brach's. Yum.
And the quilt
I will post pictures of the new tank once I have Crush in it. With his little Rosy Red Minnow friend. My son says we have to keep him, since Crush hasn't yet eaten him. Hmmmm. I have him in a picture in the kitchen waiting for the new tank to be set up. I think he is going to get lost in that tank. Guess we will find out.