I got my mail on Tuesday, the Post Office had jammed a book into my mail box. It fit in from their end, but not mine. So while trying to get it out, I damaged my thumb, and the book.
But the book is mostly ok, a little rubbing on the edge, still readable.
Hiss got a new house today, a Zoo Med Repti Shelter 3 in 1 cave. I have been wanting one, but wasn't willing to pay the $30 when I could make a hide from a butter tub for next to nothing. Petco had it on sale tonight for $7 in their clearance section. I snatched it right up. Hiss is still in his new house.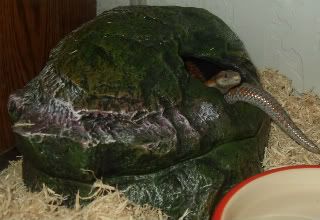 And finally my greatest find, my Bubble Gum Corn Snake. 1 of 4 snakes on my wish list. I said when I saw one again I would buy it. I found one tonight. I went looking and not looking at the same time. I knew if I found it I would get it, and I knew I didn't need it either. But I saw her, I had just about given up, the store guy was looking through the faux tree that the other 3 where hanging out in, a beautiful burgundy colored one, a black and white one, and an orange and red one. He lifted the tree and I started screaming under the tree it is under the tree, that is the one I am looking for, I want it.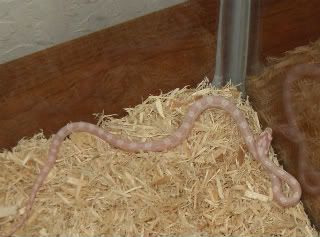 He brought it out for me and I got to handle it, she is calm enough, glided through my fingers, with speed and easy, no striking behavior. No posturing, so this one has been handled. By the time I got it home she was scared. Raced about her cage then went and hid under her bedding. (could be a boy, it is pink so I call it a girl. Might call it bubbles.)
So the other 3 snakes on my wish list.
a Female Rosy Boa, I would love to get an albino Rosy Boa, much like this one
This Beautiful specimen is from Price Animal Company
http://www.priceanimal.com/Pages/rosyboa.html
King or Milksnake that looks like this beauty
This awesome snake resides at Utah's Hogle Zoo
http://www.hoglezoo.org/meet_our_animals/animal_finder/Arizona_Mountain_Kingsnake
Do you think they will let me make him a s
ouvenir of my visit in October?
A pair of these babays, a red tail boa.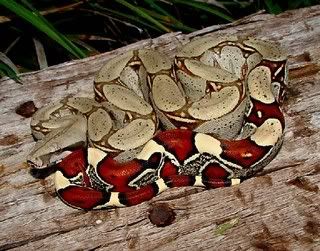 This lovely creature is found at the Rainforest Pet Store.
http://www.rainforest-pets.com/boa-constrictor.htm
What a fun night. Great finds and a new snake, which was also a great find.