I have hated
Wal-Mart
for a long time, many many years. I think it is a plague on society. Huge take over store putting the little guy out of business. I tried shopping there to save money ages ago. I was back to school supplies and clothes for my son. I had my arms full of supplies and was standing in line, that was backed all the way up into the clothing section and turning running alongside it. Big line. There was only 2 lines open. They have more than 20. So I am standing there, waiting my turn the line is creeping along. They closed the 2nd line!!!!!! I set my arm full of stuff down on the floor and walked out of the store. Except for visiting my Dad in Payson last summer I haven't been to
Wal-Mart
in five or more years.
My Dad says they changed, opened more 20 items or less lines, opened more lines. There are no more lines. So I said ok, I will try it, let's go. Wally carries a lot of stuff, totes, toys, clothes. I am all for saving time, and gas not going to multiple places. I go to the pet section first get that stuff. They don't carry the cat food my cats eat, and the only kind they will eat, it is just Purina Healthful Life. They won't eat anything else, I have tried. Ok so I go to Fry's for one thing no big, Petsmart carries it too and that is where I get dog food so it isn't like I have to go out of my way. Next cat litter, now keep in mind, I buy 100 to 200 lbs of litter a week for my eight cats. The cat litter is almost $3 less a bag then at Fry's. Ok if that is the only thing that cost more, no big, right? Paper towels, $1 more and one less roll, this is store brand to store brand. Laundry soap, also costs more, I left my shopping cart in the aisle, bought Mikey's worms, the dubia boxes and the bed sheet and said to heck with Wal-mart I am going back to Fry's.
Of course they are pink, finding pink ones really made me happy, hopefully four 5 gallon boxes will allow me to raise enough Dubias to feed my
insectivores.
So now the Dubia project begins.
I also got a red bed sheet, this and the ruffle off a dust ruffle for a bed are going to make the curtains for my sons bedroom.
Exciting right? A red bed sheet!
This is the before picture. A bonus the sheets came in a red bag i can use for something else.
In an effort to get organized I bought 2 magazine holders from Michael's and painted them pink. Yep pink, my house is going to look like
Pepto-Bismol
threw up in it at this rate. LOL.
Finally the stitching, I got my Tree of Stitches kitted up. I chose a piece of fabric that is called Day Break; it is a 28 ct linen from Crossed Wing Collection. Looks like the morning just before the sun comes up. I am going to use DMC to stitch my tree. Again I am using pink threads. I chose three DMC colors that are pretty close in color; I did that on purpose so there would a slight difference from section to section. I want my tree to look like a cherry tree in bloom.
I am using 603, 604 and 605. The tree trunk will be a soft milk chocolaty brown 840 and the owl and rabbit will be in a beige color 648.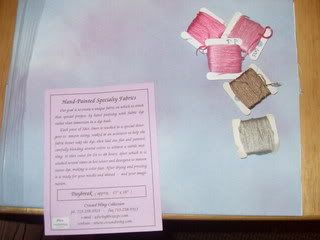 I also kitted up my Holiday stitching project and laid out the grid work. for it. Four San Man snowmen will become No Sew Cubes, and 12 San Man snowflakes will become ornaments, there are spaces for two more and the edge, I will probably stitch a froggy Mario from Nintendo or two on to it. I am looking for the perfect Christmas frog for one of the two left over larger squares and a gingerbread man, may have to revisit my San Man patterns for a cute gingerbread man.
I bought this cute little padded case at Ross for my lap top for traveling and such, transportation. I was
disappointed when the accessories
wouldn't fit in as well. I discovered that it is the perfect size for my cross stitch that I am currently working on. It all fits in there perfectly. It zips up, has a handle so it can go where I go and it totally protected from my cats.
I decided that my new bubblegum pink Corn Snake will be named Candy. Making it a Candy Corn! LOL, too cute, the idea came from a Wendy on a message board I post at, she said Candy Floss. I like it Candy, but Candy Corn. Makes me hungry for some Candy corn and I am going to have to find a cute Candy Corn piece and stitch it in Valentine Candy Corn colors.
Grumpy is helping me with this post, by lying against my arm and purring. You can see the scare on her nose from her tangle with her sister Emmy; it got a nasty infection, and had to be treated. Thank goodness it is back to normal. Poor girl you could tell it made her uncomfortable and my applying medicine probably did not help make it feel better, well it did long term, but at the moment she complained when the meds was applied.
Grumpy is really a very sweet kitten, she was named Grumpy the day she was born, of the five kittens Grumpy was the only one that started crying when picked up. The name has just sort of stuck. Grumpy has also been discovered to be a girl and not a boy like I originally thought. Oh well I don't love her any less for being a girl with a boy's name. I did name her after Grumpy Bear from the Care Bears. All my animals I try to name from Film, or books. Sometimes I break the rules - like with Candy. I wonder if Candy is a boy or a girl, I will most likely refer to Candy as a girl, since I have given it a girl's name, and she is after all pink, traditionally a girl color.