This is going to be a long one, with lots of pictures, and more to come once I get the disposable camera developed. Oh I am playing with picture size to see what size I can use on my blog.
On our way out of town we stopped and got breakfast, English muffins sandwich and coffee at Starbucks, they made me a Pumpkin spiced Frappachino. I love Frappachino.
Took my son and "went up the hill" to Williams Arizona, which lies 30 miles West of Flagstaff Arizona and is a major part of Route 66. I love the drive to Flagstaff; I love the mountains, and the wild flowers that litter the side of the road. I saw tons of my favorite flowers, the Black Eyed Susan. I saw Purple Wild Geranium, Datura (aka Desert Thorn Apple) and Black Eyed Susan
We got up there about 8 on Saturday, had Cheese Crisps around 10ish, and then headed off to Bearizona. A drive thru Wildlife Park. Much like San Diego Wild Animal park, except most of the animals at Bearizona are native species and rescues. They live on 40 acres, and people drive through and take pictures of the animals, and there is a walk through area too, where you can see more animals.
If you ever find yourself in the Flagstaff/Williams area, or are making the trip across country on Route 66, spare 2 hours and pop in and see Bearizona.
http://www.bearizona.com/
So as you driver thru the park you get to see Big Horn Sheep, Bison, Wolves, and Bears. Oh and burros. It Is incredible to see these animals this close.
The first animals we saw was the American Burro.
Rocky Mountain Big Horn Sheep
White Bison, looked more golden blond then white. They had regular colored brown ones as well but I wasn't able to get a photo of them.
Alaskan Tundra Wolves - look just like my dogs on a sunny afternoon
Black Bears, There was so many of them in this 15 acre area. It was wild.
And just look at that foot.
My boy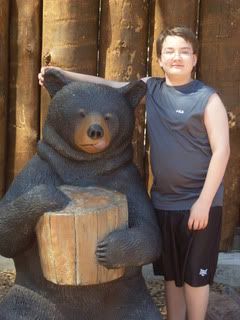 ME - I hate pictures of me
My Dad
My Step-Mom
Our whole group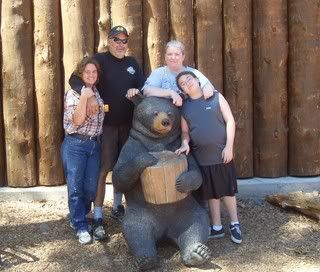 Baby Bear - So cute
Eurasian Eagle Owl
This Guys job was to pretend he was the lookout mouse and we were the mice he was watching out for. He was supposed to squeak when he heard the owl's wings. Because the owl did his roar all of us mice survived. Don't you love his protective head gear?
Missed us by this much!! 1/2 and inch was cleared over our heads, it was awesome. I was hit in the head by the wing tips of a Harris Hawk.
American Kestrel Falcon, this little bird was so beautiful. I wanted to just run my fingers through his feathers, but I like my fingers attached to my hands.
Harris Hawk
Crested Caracara - they said they act like vultures and will even harass vultures to get them to drop their food.
Canadian Lynx, I thought the one was dead and the other was eating him until he moved.
Raccoons kits
I will have some more photos when I get my disposable camera printed and scanned, there was javalina, and foxes, baby wolves, bobcats, etc…. lots of neat Arizona animals.
My souvenir from Bearizona, I just loved it and met the lady that paints them, Jackie was so awesome, I will post a link to her website when it is up and running. She is going to paint Aaron a cobra and send it to him. This is a snowy owl. The one she was working on at the park was incredible too. I just loved it, but I love this one too, I am going to display it on my desk at work.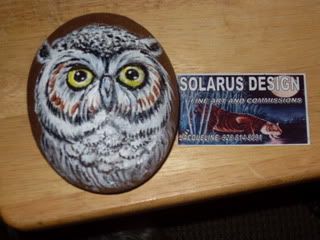 We celebrated Aaron's birthday with my Dad and his wife. After Bearizona we went to Dairy Queen, and had ice cream. I had the Peanut butter blast without Chocolate, subbed it for Caramel. Yum.
My Dad made chili, it was really good. I didn't know my Dad could cook. And after we had cupcakes. They were good. They gave us the leftovers to take home, the frosting/icing melted in the car on the way home.
Another blunder for my boys birthday, they decorated the cake wrong, it was suppose to look like Spongebob. I was unhappy when I saw it, it is beautifully decorated, but not what I asked for. Would have been really upset if I had picked it up on Saturday for his party and seen it. They told me they would make it look like Spongebob.
I got my painting of Rhett Butler back from my Grandmother today. She taught me, my aunt and my Mom oil painting. I think we are all happy with our one painting.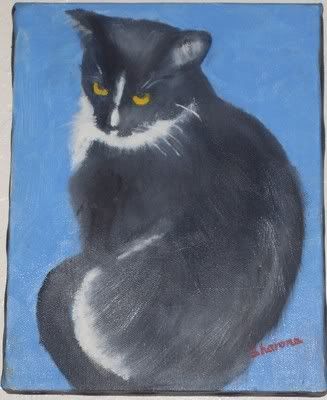 This is the model I used to paint Rhett Butler, my cat Rhett Butler. He is an awesome cat, heavy and solid. His coat is so soft. He is now 2 years old.