No this isn't some Borg identification number. Yep I can be a bit of a geek sometimes. This is the chapter I am on in a new book. This book wasn't recommended. It was left for me to find it. In the break room at my office we have a book shelf where you can find a new book to read or leave one you have read. I found Shadow in Serenity by Terri Blackstock. This is a Christian suspense novel. Stand alone there is no others to make this one a series. But she does have several series and this is book has me wanting to find them so I can read them next.
If you are looking for a good, you like suspense then I suggest you checking this one out.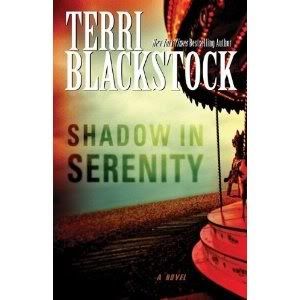 From Amazon - Book Description
Publication Date: September 27, 2011
Carny Sullivan grew up in the zany world of a traveling carnival. Quaint and peaceful Serenity, Texas, has given her a home, a life, and a child. Logan Brisco is the smoothest, slickest, handsomest man Serenity, Texas has ever seen. But Carny Sullivan knows a con artist when she sees one---and she's seen plenty, starting with her father. As far as Carny Sullivan can tell, she's the only one in town who has his number. Because from his Italian shoes to his movie-actor smile, Logan has the rest of the town snowed. Carny is determined to reveal Brisco's selfish intentions before his promise to the townspeople for a cut in a giant amusement park sucks Serenity dry. Yet, as much as she hates his winning ways, there is a man behind that suave smile, a man who may win her heart against her will. Shadow in Serenity is a modern-day Music Man, penned by a Christy Award-winning, New York Times bestselling author.