I still have a few more things left to do on my to do list before 2012, but I am making pretty good progress, considering I wrote this list of 10 in mid September.
• I still need to get Toothless into his Castle. I need to secure a couple of points in it first.
• We are going to kill 2 birds with 1 stone and make the curtains for the living room and learn to sew at the same time.
• I am almost done with the Left Behind Series, It is the kids series, I read the adult series years ago and wanted to see how they differed. I am at book 36 of 40 I will finish the series on Friday.
• The previous post has the photos of the new critters ornaments.
• I have stitched 8 of the 12 snowflakes for 12 San Man Snow Flake Ornaments. I am not longer going to use them for the same thing, not sure what I will do with them now. I will figure something out.
• Finished the Tree of Stitches
My flakes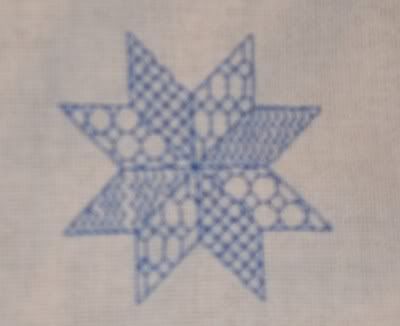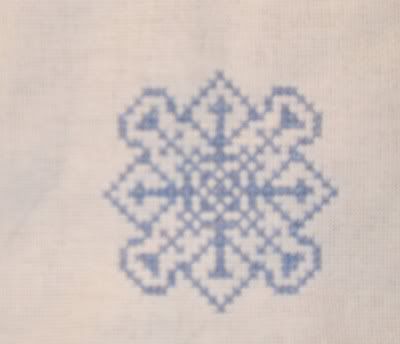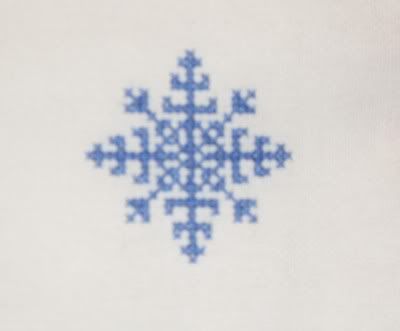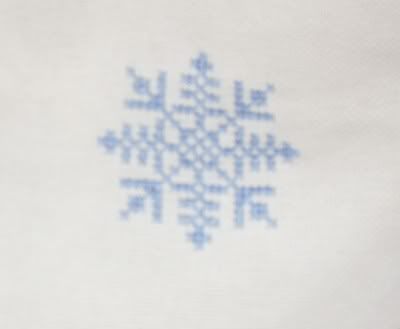 Snowboy
Frosty Finally got a nose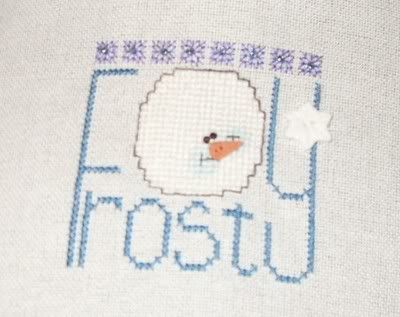 I finally got my tree finished. I just worked almost none stop on it 2 weekends ago. Got it all finished up. I started my Great Escape piece as well. I need to print out 3 and 4 and the instructions so I can get all caught up. Section 4 came out over the weekend so I am only 2 sections behind.
My Tree
My Great Escape
Snow boy, cute isn't he. Not sure how I am going to finish him, I took the snowman off for now it wiggles all over the place. I am thinking maybe a now sew cube might be cute.
I have had Slyther almost a month now, I got him on Oct 9th. He has not eaten in this time. I have tried a couple of different means to feed him to no avail. This week I am teasing him. I am setting the mice on top of his cage in the evening and leaving them there until bedtime, much to the amusement of my cats. I have to stow the mice away in the bathroom at night, I have cats that would eat them.
Might be at least another week now before Slyther will eat. Slyther is going into the blue. He should shed in the next week. Maybe he will eat after that.
So yes, I now have 3 new mice. I bought these mice as food for Slyther. But like I said Slyther has not eaten for me yet, much to my frustration. One of the mice, the little one Fu was actually in the tank with Slyther, but he was not interested in Fu, or was afraid of her. Fu was pretty active. So she was pardoned and is now living the mouse life of luxury. She has a cage with a wheel and a water bottle, and I am spoiling her with lots of treats and she is getting lots of handling so she is gentle and quiet.
I tried again a few days later with some other mice, I intentionally got one for Fu to have for a friend, another female, I called Zoe but again Slyther wouldn't eat and I ended up with Oreo too. The boy named her. Zoe's name was chosen because it eliminates 1 more letter from the alphabet for me. Fu means good fortune in Chinese and the boy named Oreo because of her markings. She is such a cutie. Fu and Oreo take to handling, I can get both out and they are calm, Zoe still totally freaks if you even touch her trying to get Fu or Oreo.
Fu & Zoe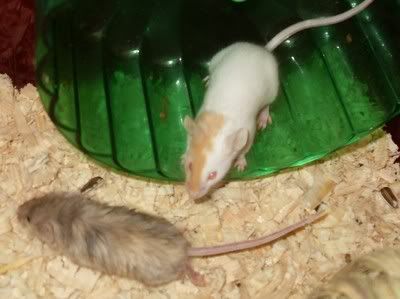 Oreo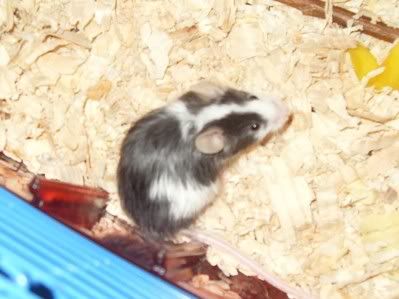 Sometime between noon on October 1st and 8 am on October 3rd my Betta, I got in April committed suicide. When I got into the office that morning, I found him on the floor under my desk, all dry and very dead.  It was a sad day, sad week, I had no Sprite to keep me company. I did however get a new Betta after I returned from Utah, a bright red one, about half of Sprite's size. He is named Red, nothing else has been suitable for him. He is a very pretty fish. I enjoy watching him. He doesn't hold a grudge like Sprite did.
Red
To get this photo of Red, I had to take photos on 3 different days sort through over 20 shots a from each try and I walked away with like 3 good shots, 1 ok one and a really slow video of Red eating some fish flakes. Fish are not easy to photo graph.
Can you believe Thanksgiving and Christmas are almost upon us? Where did the year go? I spent all summer looking forward to my trip to Utah and it has already come and gone. Like I blink and the year was over. What gives? Now I am looking forward to my friend maybe coming to visit. I told her to come out in February or March when they are ready to thaw out and we Zoni's are already nice and toasty again. Does any fellow Zoni or Phoenician actually believe that there exists more than two seasons? I believe there is Hot and Hotter, what is your take?
I have to see what exciting places there are to visit here in Arizona. There really is a load of neat places. Rawhide, Tombstone, Jerome, Grand Canyon, Williams, Tucson, Old Tucson Studios, Wild Life World Zoo, Out of Africa, Oatman, Sedona, or Winslow. If you go to Winslow you have to get a picture of yourself standing on the corner, just like in the song by the Eagles – Take it Easy. Wow there are many great options.
Here is my son's picture for Fall 2011, he is growing up way too fast, there should be a law or something against that. He looks good though, a real-ish smile on his face. I usually get the cheese big teeth boy grin, you mom's of boys know what I am talking about, I think every boy does it at some point.
Do was the first day of cool weather here in Phoenix. 66 degrees was our high. Took all day to line dry my laundry. In the summer you can hang it up and by the time the last piece goes up the first is ready to come back down.
Neo Pop with scary eyes
Rehash my pet list here as of today I have 31 animals. Unless you want to count crickets, I have 9 dozen of them.
8 – Cats - Nani, Indiana, Anakin, Rhett Butler, Bonnie Blue, SkippyJon Jones, Grump and Emmy (listed in order of how I got them)
3 – Dogs - Bailey, Peaches and Neo (listed in order of how I got them)Bailey spends most of his time at my parents and won't come home.
4 – Hermit Crabs (George, all 4 of them called George) Trust me it is easier that way.
1 – Red Ear Slider Turtle - Crush
1 – Box Turtle – Michelangelo "Mikey"
1 Bearded Dragon – Toothless
1 Chinese Water Dragon – Lightning
4 – snakes Hiss, Candy, Outlaw, and Slytherin
4 – Fire Belly Toads - Fire, Lava, DAVE and Kermit
1 – Betta – Red
My girls being naughty, up on the top of my front door.
As always, if you know my son's name and post a comment, please do not post his name. Thanks